History of the

African Sweetgrass Basket

and the Basket Maker

  Sweetgrass basket making is the oldest, living, African art form in America.  It has been part of  this country before it was called America; when it was still a British colony.  The technology of sweetgrass basket making and the knowledge of rice cultivation were brought here by Africans that were captured and forced into slavery.  These africans came primarily from along the western coast of Africa.  However, sweetgrass basket making is also practiced along the eastern coast of Africa.  In Africa, men were the original basket makers.  Many believe that during the time of slavery, women were taught this craft.  You see, a slaves value increased, a little, if they were skilled at a craft such as, iron work, masonry, farming and basket making.  During the days of slavery in the confederate states these baskets were in great demand for agricultural purposes.  In addition to the selling of our anscestors, the selling of sweetgrass baskets to other plantations was another source of extra income for slave owners.  Men made large work baskets from bulrush for rice cultivation and storage purposes. Women made functional baskets for the home such as bread trays and sewing boxes.  Sweetgrass baskets are made with sweetgrass, bulrush and long leaf pine needles, bound together by strips of palmetto trees leaves. 

  The paving of Highway 17 North and the construction of the Cooper River Bridge made the route through Mount Pleasant a major North - South artery.  Basket makers then began building  roadside basket stands, which allowed direct access to tourists that  wanted to purchase sweetgrass baskets.  A serious problem confronting the basketmakers of Mount Pleasant is the dramatic decline in sweetgrass materials due to private development of our coastal islands and marshlands.  Mount Pleasant basketmakers depend on open access to these materials for their art to continue.  Increased public interest is needed to ensure the future of this Lowcountry tradition.


Skilled craftsmanship and long hours are involved in making these baskets.  Even, for the most part experienced basketmaker, a simple design can take as long as 12 hours. A larger more complex design, can take as long as two to three months. 


Over the years, those of us that have held on to our heritage, have become better at the art of basket weaving.

We are teaching this rich cultural heritage to our children so that someday they will pass it down to their children.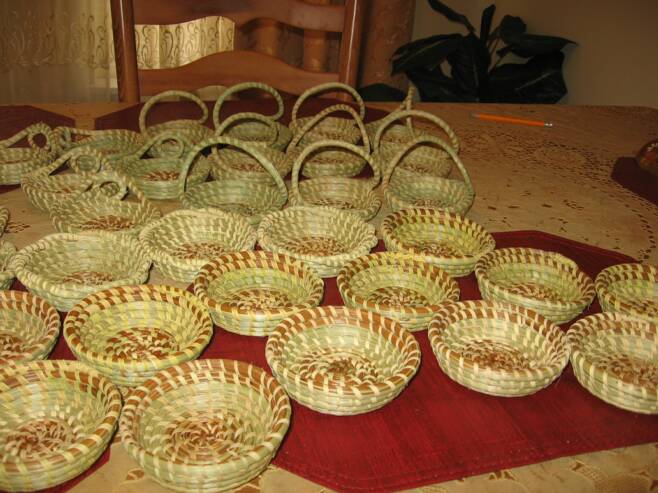 Psalms 16:11   You will show me the path of life; in Your presence is   fulness of joy, at Your right hand there are pleasures forevermore.